March 30, 2007
posted by Nk. at 8:23 AM
friday i'm inlove.
supposedly this is how i write my name in Korean, my student jenny taught me. as you can see i pretty much suck at writing using paint in my pc...kamusta naman at muka syang number na itataya sa lotto. hahaha. but thanks jenny, grabe in fairness nag eenjoy ako magturo =)
i woke up happy this morning, not much sleep (like 3 hours? my sister says i look like a raccoon already) but happy...you know, that light feeling you get when you're looking forward to something that's about to happen but hasn't happened yet, but you don't know what it is? basta, masaya ako ngayong araw, i'm loving it, i'm inlove with life!
thought for the day:
I would rather live in a world where my life is surrounded by mystery than live in a world so small that my mind could comprehend it. ~Henry Emerson Fosdick

0 comments
View blog reactions
March 28, 2007
posted by Nk. at 9:04 PM
not to offend kimerald supporters out there, but Sana Maulit Muli is getting lame. it's fast becoming like most other TV dramas out there...bonggang beginning, then the story gets shallow, then it gets repetitive, then it gets annoying, then it gets booooring, until finally you turn the TV off or watch something else instead. i like kim and gerald better in the sitcom Aalog-alog, the SMM story is simply too heavy for their age range, it looks more like a story for older actors, say the likes of claudine baretto et al. DESTINY is much too serious a topic for teenagers. though there is much promise for the acting skills of the SMM leads, and no doubt elicits kilig from "kimerald" supporters, overall SMM fails to draw the desired effect -- and that is believability. parang 'yung sa flor de luna -- pilit. unless SMM producers come up with something we haven't seen in pinoy TV soap operas before, this one should (and must) end soon, if only to not prolong our agony.
thankfully Maging Sino Ka Man is saved from the same fate as all the others with the excellent acting from its cast, and the twists that happened na at least keeps the viewer interested on what happens next. i have to say that i'm most impressed with anne curtis' performance (esp for tonight's episode) -- she's come a long, long way from the pacute teenager who entered showbizness years ago. and in fairness to sam milby, he has the dramatic actor in him, he should perfect his tagalog though kasi nasisira minsan ang scene when he speaks in his barok tagalog. of course there are the usual suspects: john lloyd cruz, bea alonzo, irma adlawan, christopher de leon et al. this is a dream cast, to say the least. and what can i say about ryan eigenmann? it's in the blood, pips, it's in the alajar-de mesa blood. i just heart this actor, one of the most underrated in the industry. too bad his character had to die tonight.
when i think of pinoy soap operas i get a bit sad, alam nyo 'yun -- the amount of time we Filipinos spend in front of the TV digesting them, tapos, wala man lang anything bago, a new soap comes but di pa nga sya nangangalahati alam mo na how it will end, who will die, who will screw who, who will get rich, who will turn into a pauper. napakapredictable. sayang, because i believe that there is no dearth in good writers, brilliant ideas (such as my friend amber's fanfic,
If Secrets Could Talk
), unique story lines and equally great actors out there. ang ngyayari, networks are recycling stories, na parang ang tatamad ba ng writers and producers nila? tuloy some of us get addicted to other shows from other countries.
what do i want to see on philippine primetime?
1. something that requires some sort of brain activity kahit konti lang, tipong CSI or Prison Break. 'yung sis ko sabi sakin noon, si erwin tulfo bagay maging lead ng ganitong series. musta naman yun?
2. not your usual "love team". or your usual love story. naisip ko nga several days ago, bagay siguro si sam milby and chin chin gutierrez gawa ng series, tipong mume-May-December affair. hahaha.
3. how about something that teaches us too of our history, or culture? instead of recycling old movies why not translate Elias at Salome (i have just the perfect cast for this haha!) to a full length teleserye? o kaya, gawan ng twist, basta, something that will have a more substantial effect. 'yung at least me matutunan ka din about yourself, and hopefully your origins.
ano pa...wala na akong maisip for now. kayo guyz, what do you think? =)

3 comments
View blog reactions
posted by Nk. at 12:14 AM
"Let there be no purpose in friendship save the deepening of the spirit."


~ Kahil Gibran.
there's nothing like a beautiful, away from the hustle-and-bustle-of-stressed-city-life place and good, good friends.
had my much awaited weekend getaway last week. tagaytay is great...
sonia's garden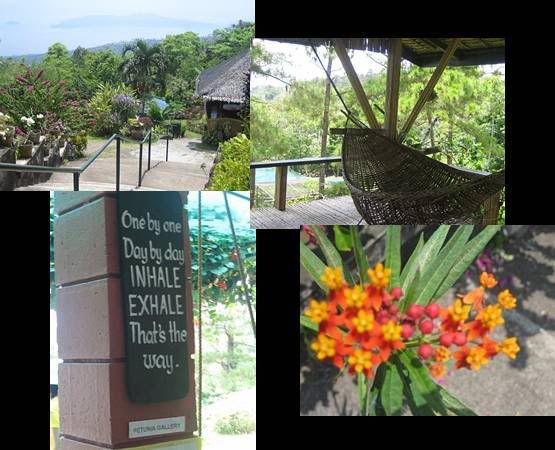 the good shepherd convent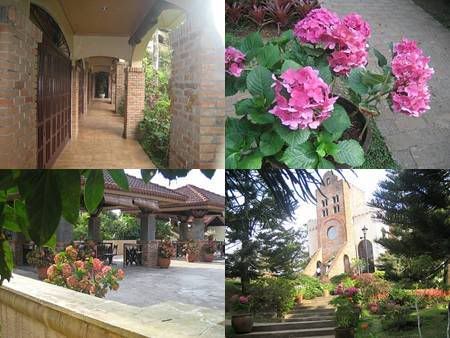 calaruega
palace in the sky

but the company is what made taking the trip all worth it =)

it's true what they say, the journey is long and the road is rough, but with good company the trip becomes an adventure, an exciting journey into the world and into yourself.
friends. these are the people who show you who you really are -- all the good and the bad sides -- but you end up still liking yourself.
thank you so much guyz (you know who you are!) life is much much colorful with you around =) love yah guyz!
*thanks jo for the pictures!!!

1 comments
View blog reactions
March 22, 2007
posted by Nk. at 2:39 PM
i'm trying not to fall asleep while writing this post.
it's one of those days when it's perfect to just lie down in bed and sleep -- it's a gloomy, rainy, rainy day. it's a bit weird coz it's supposed to be summer now. normally i love the rain...but today i'm just sleepy and the only thing my heart is aching for is my bed (and okay,
this guy
).
BUT, i'm at the office so my desk is the poor substitute. i've been taking naps on intervals -- i don't know if that's good or bad -- i guess it would be bad if some idiot decides to do something stupid like kick my chair (read: pull a prank) while i'm sleeping.
anywaaaaay.
tomorrow i go to manila. on saturday i go to tagaytay. it's going to be one pudgy weekend, and i can hardly wait. one year na guyz!
the Princess Hours OST is still in my playlist. i can't get enough of it, parang drugs ang lintek, nakakahigh -- it's kinda scaring me a little now, like, i want to sing it in Korean, and makes me think that i should go right ahead and see the world through rose-colored lenses. that, and the persistent question in my head...
when was the last time you felt
that
way?

2 comments
View blog reactions
March 21, 2007
posted by Nk. at 9:22 AM
i do cannot understand a single word but the OST of Princess Hours (Goong) is sure giving me a good mood this morning. shyet parang gusto ko na mainlab.
today on my playlist:
perhaps love (Goong OST) -- Howl & J
chasing cars -- Snow Patrol
doo ga ji mal (Goong OST) -- Jung Jae Wook & The One
give me a little try (Goong OST)
are you beautiful (Grey's Anatomy OST) -- Chris Pierce
i like the way you move -- Bodyrockers

i'm happy. today is a great day =)
* i had a pleasant surprise when a co-tutor i just met last night (she was tutoring jenny's friend, Henny) said she thought i was just 21! naluka ako. when i told her my real age she was like,

go to hell! di nga?

i look like a fresh grad daw. kamusta naman 'yun, haha!


2 comments
View blog reactions
March 20, 2007
posted by Nk. at 4:52 PM
what kind of idiot holds a biscuit pack the wrong way such that all tiny crumbs that are supposed to remain inside fall out and makes a mess in the damn desk?
ME.
anyway.
i'm going to spend the weekend with some very special people! i'm so excited i think i'm about to have seizures!
i have an idea, of local celebrities that ought to do a movie/TV series together and what kind of plot. i'll blog about it later coz now i gotta run, got a student waiting to be corrupted...err...enlightened.
see yaaa.

0 comments
View blog reactions
March 18, 2007
posted by Nk. at 4:37 PM
my current obsession of the moment: Korean dramas.
i just finished watching
April Snow
over youtube. i love how the texture and just the overall look and tone of this film, sad kung sad talaga. and the acting, or should i say, underacting -- so different from local films here, na sanay sa overacting. it's not the best Korean film i've seen yet, (it used the same storyline as of Harrison Ford's movie "Random Hearts") but considering the trash commercial movies pinoys are being fed to these days, i'd gladly sit in front of my pc and watch this over what, Happy Hearts or Enteng Kabisote any day.
and while we're at it, can i just say that Flor de Luna sucks? in a major way? first of all, how can kids talk, think, and act that way? and the lovestory between those two parents is sooo boring. scriptwriters these days are so lazy, can't there be any other storyline than this?
anyway, thank goodness for the internet. i now have
the trailer
of my love joo ji hoon's latest drama,
"Mawang"
(The Devil) where he turns from Prince to Devil.
when will we see our local TV come out with something other than just another lousy and predictable soap opera?

* The devil starts airing in Korea March 21. i am so going you-tubing for this. here's another preview.
Labels: flor de luna, Joo Ji Hoon, korean drama, Mawang, The Devil

1 comments
View blog reactions
March 13, 2007
posted by Nk. at 11:45 PM
do something that scares you every day.
i never thought i'd say this in a million years...but i think i'm beginning to like teaching. it was my first day tutoring Jenny, a 15 year old Korean girl. it's not my first time tutoring per se, but it was my first time tutoring a foreigner, a foreign teenager on a face to face basis. grabe, masaya din pala? i have two aunties who are teachers and some of my relatives were trying to persuade me to be a teacher before pero never ako pumayag kasi i know i just don't have the patience. noon nga naisip ko, baka mambato lang ako ng eraser pag me makulit na estudyante.
pero wow, iba pala 'yung feeling. i love it when Jenny had that "oooh, ganun pala 'yun" expression. she even taught me how to spell my name in Korean. i love it. i'm really looking forward to this new experience. =)

0 comments
View blog reactions
March 12, 2007
posted by Nk. at 2:46 PM
this has to be the funniest DHL ad i've seen so far...
please send me a postman as good-looking as that one, or someone who looks like piolo pascual. or johnny depp. or ji joo hoon. i'll be waiting at the door to send kisses to all my friends out there. mahaba-habang halikan to, LOL!

1 comments
View blog reactions
March 11, 2007
posted by Nk. at 1:19 PM
in life i would like to be astounded, to have my jaw drop to the floor in utter amazement, to feel it in full force, to never cease being in wonder...
when i was a kid one of my favorite hobbies was to collect broken pieces of glass. it didn't matter if i picked it up from the kitchen floor after the pitcher broke, or if i found it in the sidewalk, in the playground, or near a construction site. i could spot a "nice piece of broken glass" even if it was half buried in the ground. sometimes i looked for them on purpose, sometimes i just happened to look at the right moment, when the light hits them and they tease my eyes with their shimmer. it's also safe to say that it was easy to see these things as a shy little girl...because walking then for me meant spending the time with my head down.
i collected so many pieces of broken glass (and other junk including broken tiles, strange colored stones, shells, you name it) our old house was littered with chiz wiz bottles filled with them. i had a plan in mind that if i collected enough i'd build a house made of pieces of colored glass, a mosaic house. but growing up some childhood plans are waylaid, some forgotten. my collection gathered dust while spent time with my studies, friends, high school plans. eventually papa threw my precious collection away -- without my knowledge, and without me noticing. i simply forgot.
until yesterday.
i was doing my routine research at work when i found the
mosaic art source blog
. and found Niki de Saint Phaelle's
Tarot Garden
.
and an old love resurfaces.


some beautiful mosaic creations here and here.

0 comments
View blog reactions
March 9, 2007
posted by Nk. at 9:21 PM
Papa and i were getting ready for breakfast this morning when we heard the news over the radio. Kuya Arnulfo - son of my father's eldest brother was dead, shot to death last night on his way home, after doing his regular duty as a barangay public safety officer. the news said that there was a man who came running to him for help after trying to get away from unidentified men who tried to rob a barber shop in the neighboring barangay. unfortunately the suspects got to them and shot both of them dead.
i'm not close to my father's side of the family. my sister and i grew up with our cousins from my mother's side, and never really spent time or effort getting to know the other side. mama for some reason wasn't exactly fond of them either, so growing up there were no family reunions or bondings with my father's relatives. birthday parties were with the cousins in the city, vacations were with my mother's cousins in the beaches of Bacon, Sorsogon.
which is why it feels a bit weird, this death in the family. i'm sad...but not
affected
sad. is that bad? i hope not...

0 comments
View blog reactions
March 8, 2007
posted by Nk. at 8:05 AM
Angelika "Miss Flow-less" Jones is running for Board Member in Laguna.
WTF?!?
what is it about celebrities and has been celebrities and their penchant for pagsasideline into politics?
wtf is wrong with these people??
i'm not saying that all celebrities are dumb, pero hello naman, if you have even a nanogram of intention to really help this country at least get it in your head that
public service requires major brain activity
.
MAJOR
okay, in caps. in big bold letters. kung 'yung mga nakapag-aral nga kung saan saang top universities and have years and years of experience in government service are still capable of making major mistakes, 'yun kayang wala pang alam? "noble intentions" are not enough. what this country needs are people who can actually think of solutions to this country's maladies
and implement them effectively
-- not people who can make us "feel better", whatever the f**k that means. maawa naman kayo sa Pilipinas!
------------>
hay grabe, i googled "women in the Philippines" with the intention of finding out about the latest statistics on certain women's issues and kamusta naman at nine out of ten results were about Filipino women seeking men (foreigners, i assume).
sites like these
had me thinking, wow, hi-tech peddling of women na ito. it's not like anyone's forcing these women to "be peddled", most prolly these women were more than willing to be advertised like goods and tourist spots in exchange for a possibly "better life"with a foreigner husband...pero there's something wrong with this picture. i don't know. it's that "errr..." feeling.
out of curiousity i looked up "men in the philippines" and what do you know, almost same results. it's still all about women seeking men in the philippines. seems to me that this country is desperate to give its women away. bargain price pa.

0 comments
View blog reactions
March 4, 2007
posted by Nk. at 8:23 PM
grabe, today (March 4) would have been
Jung Da bin
's (Noreen of
Attic Cat
) 27th birthday, had she not died of an apparent suicide last month. i saw her
funeral pictures
and i teared up a little. i know di ko sya kaano ano and there are probably other issues more worthy of this space pero nakakalungkot lang. In Asia,
1st na ang Korea
sa dami ng nagsusuicide. and to think na Korea is probably one of the richest countries in the world now, ironic lang di ba, shouldn't life be better compared to life well, in countries like ours? siguro dahil nga sa economic success ng bansa nila a person's worth may have become measurable by the material wealth that he or she has, and siguro nga those who commit suicide are those who cannot take the pressure to live up to society's expectations. ang lungkot di ba?
i looked up the Philippines' suicide rate and i was relieved to know na we have one of the lowest in the world, so far. siguro it is mainly because we are a predominantly Catholic nation thus most of us have been raised na "may takot sa Diyos". as a matter of fact, isa pa nga ata ang Pilipinas sa
happiest countries in the world
. o di ba, ang taray?
kanina napag usapan namin nina Kiten, Kay, and Jo yung suicide. sabi ni Kay, mataas daw ang suicide rate sa Korea because of too much stress and pressure. grabe daw kung magtrabaho kasi. tama nga coz i read somewhere that sa isang araw typical na yung magtrabaho sila ng 16 hours. kahit yung students, after school, they just can't go to gimmicks or muck around the house ng basta basta. when they get home they have long tutorial sessions pa, with private tutors (i know this for a fact because nakapagtutor na ko before online). samantalang dito sa Pinas, sa school pa lang, ang iba bulakbol mode na. we all agreed na too much pressure to succeed is pushing many Koreans to take their own lives.
Si Kiten, she raised a good question. dito daw sa Pinas bakit di na lang mag suicide yung mga tambay sa kanto at yung mga sunog baga na walang magawa sa buhay?
honga naman, come to think of it, sa dami din ng mga taong walang trabaho at "walang silbi" (Jung Da Bin was said to have died of depression kasi matagal daw na di nakakakuha ng trabaho after her last project) dapat marami na din nagsusuicide sa Pinas. But no. masaya pa ring nag iinuman ang mga tambay at patuloy pa ring nabubuhay ang mga "walang silbi".
bakit kaya?
is it because sanay na tayo sa hirap and that another day of hirap makes no difference? is it because hindi pa naman ganun kayaman ang Pinas and most of us are not pressured enough to be something, to live up to something? or is it because we are a naturally optimistic people and the future, though often bleak and scary, does not make us buckle down and take that rope and hang ourselves in the comfort room?

3 comments
View blog reactions
March 3, 2007
posted by Nk. at 12:21 AM
Harvey Keh captures my sentiments - no, bewilderment about the state of politics in this country. The youth leader and recipient of 20 Young Leaders of Asia cited on the 50th anniversary of the Asia Society posted an open letter in the internet saying that in spite of his love for his country, there are seven possible outcomes of the coming elections that would make him consider packing his bags and say Adios to the Philippines:
(thanks to
www.inq7.net
)
1. If former Election Commissioner Virgilio Garcillano of "Hello Garci" infamy wins in his announced bid to become congressman of Bukidnon province.
niki: i mean, wala na bang ibang choices?
2. If "Dancing Queen" Tessie Aquino-Oreta reclaims her Senate seat.
niki: she certainly is acting like a sane woman now. her make up artist must be proud, making her appear like a concerned citizen. like she really, really, really wants to send your kids to school.

3. If actor and comedian Richard Gomez is elected senator.
niki: somebody give this guy a movie. a one-man do it all TV show. 7 wives na kasingputi ni lucy. more vitamins. anything! just keep him away from the freaking senate.

4. If former senator Gregorio Honasan wins a Senate seat.
niki: haaaaay.
5. If Manny Pacquiao becomes congressman of General Santos City.
niki: manny, do us a favor -- stick to boxing and to making us proud.

6. If Sen. Lito Lapid is elected mayor of Makati City.
niki: may inuwi si nanay sa bahay...sa bahay...*enter lotus feet*...

7. If Ilocos Sur Gov. Luis "Chavit" Singson, who has long been linked to illegal gambling, is elected.
niki: please chavit, can you just build a zoo for us? teach us how to pet the tigers without getting our arms chomped? please?

0 comments
View blog reactions